Waterloo's feared grey horses to ride again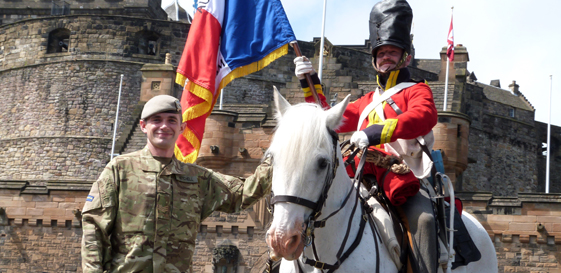 Edinburgh Castle recently hosted the start of a countdown to a very special celebration
On Wednesday 18th June Brigadier Mel Jameson, chairman of the Royal Scots Dragoon Guards Waterloo 200 committee, started the 12 month countdown to the 200th anniversary of Waterloo and outlined the planned commemoration programme for Scotland.
The Royal Scots Greys – now known as The Royal Scots Dragoon Guards – will lead Scotland's programme of events to mark the 200th anniversary of the battle in 2015.
On June 18, 1815, the Scottish cavalry's 400 grey horses thundered towards the French forces in an act of lionhearted bravery, spearheading the Duke of Wellington's Anglo-Allied army's victory against Emperor Napoleon. He called them "Les terrible chevaux gris" as he witnessed the Royal Scots Greys being unleashed onto the battlefield of Waterloo in one of the most important cavalry charges in history.
But the heroic actions of the Scots came at a cost with 200 men and 224 horses from The Greys falling in battle, either killed or wounded.
Now Scotland's cavalry is preparing to commemorate the heroic charge that struck a thunderbolt into the heart of Napoleon's legions and helped halt his bid for dictatorial dominance in Europe.
Next year will also mark the return of the Royal Scots Dragoon Guards to Scotland and their new base at Leuchars – their first ever home posting to Scotland since they were formed on the amalgamation of The Royal Scots Greys (of Waterloo fame) and the 3rd Carabiniers in 1971.
Waterloo is the main Battle Honour of The Royal Scots Dragoon Guards and the regiment marks the victory and honours the human cost on June 18 every year.  To that end, The Greys are being mustered to ride again.
It is hoped a troop of grey horses and riders will bring Scotland's history alive as they take the tale of Waterloo on parade behind marching bands and pipes and drums through our major cities.