Wee Wallace, the "Shortdog"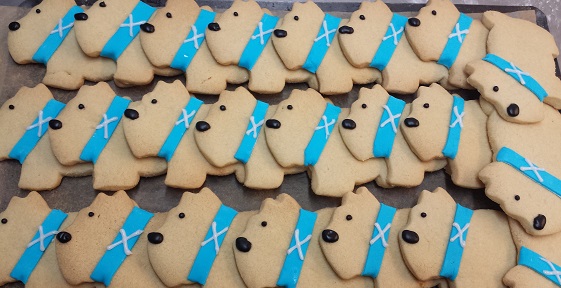 I promised some lovely tourists I would feature our shortbread on this month's blog as they had enjoyed it so much! Wee Wallace, our 'Shortdog' is so popular we are daily producing over a hundred in the tearoom bakery!
With this month's recipe you can make your very own shortbread creation, and my tip of the month will make sure it's the best you've ever tasted.
It will definitely taste better than the original Scottish short bread, which was made from left over bread dough (hence its name) and oatmeal sprinkled with sugar and baked until very hard. I'm looking forward to National Shortbread Day on the 6th January, hopefully you'll all be enjoying making your own by then too!
Ingredients
175gm Caster sugar
280gm Unsalted butter
480gm Plain flour
Method
You can either make by hand, or use an electric mixer on a slow setting.
By hand
Cream the sugar and the butter together until mixed.
Slowly sift in the flour and gently work in with your hand until only just mixed.
In the mixer
Mix all ingredients on a slow setting until combined.
Method continued:
Heel out to half an inch thick, cut into desired shapes.
Bake at 150 centigrade for 30-40 mins until a light golden brown.
Cool on the tray.
Make a giant mug of tea and try not to eat them all at once. I can't wait for ours to cool properly and love it when they're still slightly warm and dipped in lemon curd…yummy!
Red's top baking tip
For the crumbliest, lightest delicate texture in your shortbread handle and mix as little as possible, and do not knead! Rather than rolling it out, flatten it out gently with the heel of your hand ('heeling' is a very traditional shortbread technique) and when the desired thickness is achieved lightly roll with a rolling pin to smooth out if desired.
We would to see your photos of your very own "Short Dog"! Share with us @edinburghcastle & #edinburghcastle or why not stop by our tearoom on your next visit.