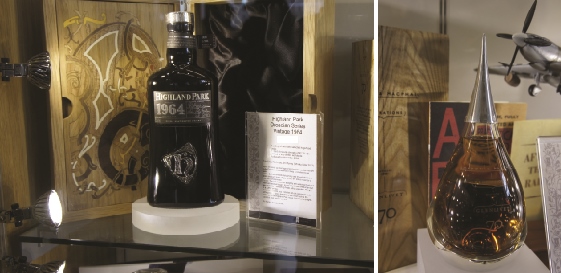 We are excited this week to be able to offer visitors to Edinburgh Castle the opportunity to get their hands on a very unique bottle of whisky.
The castle's Whisky & Finest Foods Gift Shop has been given one of only 290 bottles of a stunning 1964 Highland Park, valued at £4100.
Bottled in 2009 from two refill hogsheads, this Highland Park 1964 is the inaugural release in the distillery's Orcadian Vintage series. 1964 was a special year in Edinburgh's history with the opening of the Forth Road Bridge, linking the city to the Kingdom of Fife.
This blend has a unique finish with a rich, long, lingering spiciness that completes the sensational tasting experience of this venerable single malt. The packaging for this series is striking; a heavy oak box features Viking design marquetry, wood inlays and with a hand-crafted silver amulet on the front.
Not content with just one exceptional whisky, we also have one of the few remaining bottles of one of the world's oldest and most exclusive single malts from Gordon & MacPhail, the world's leading malt whisky specialist. This Glenlivet 70-year-old single cask is from the first batch released in our very own Edinburgh Castle.
Met with international acclaim, the bottle is beautifully presented in a tear-shaped, hand-blown crystal decanter with a hallmarked silver stopper. The decanter nestles in a Sterling silver base and is framed in a hand-made box, crafted in Scotland using Scottish yew.
Matured in a first fill sherry butt, and bottled at cask strength (45.9% ABV) this is a last chance for collectors and consumers to own a piece of Scotland's liquid history.
These rare bottles would be a real treat for any whisky collector and would make a spectacular Christmas gift. You can find these and a host of other outstanding whiskies in the castle's Whisky & Finest Foods Gift Shop.
Kathleen Rock, Category Buyer
Historic Scotland