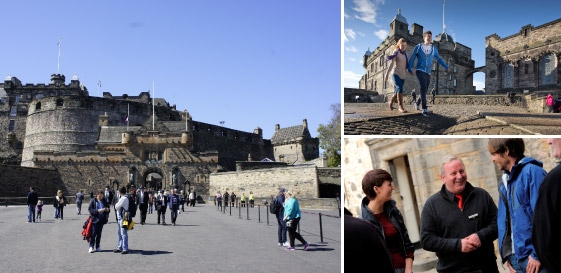 Voted the top UK Heritage Attraction for the past two years running, Edinburgh Castle has once again been short-listed by the British Travel Awards to receive this prestigious title. It was a huge honour for the castle to be voted the top UK Heritage Attraction in 2011 and 2012 and we are hoping the public will support us again so we can bring the trophy back to Scotland for the third year running.
The castle is Scotland's number one paid-for visitor attraction, annually welcoming more than 1.2 million visitors from around the world. This year we face fierce competition from the National Maritime Museum and the Titanic Belfast for the crown.
Already this year, Edinburgh Castle has won a 2013 Travellers' Choice award in the category of top landmarks in the UK on TripAdvisor. These awards are based on millions of reviews and opinions from travellers so we take great pride in this recognition from our visitors.
There is so much to see at the castle, from the Scottish Crown Jewels and the Stone of Destiny to St Margaret's Chapel, the oldest building in Edinburgh, as well as the famous One o'Clock Gun and our costumed performers who bring history to life.
So if you're a fan of our mighty fortress, help us score a hat-trick at the British Travel Awards by following this link to vote.
Keir Booth, Marketing Executive
Edinburgh Castle