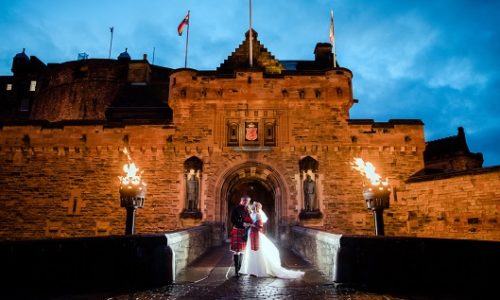 "No Directions on The Invitations Necessary" – What Other Venue Can Boast That?!
When Colleen and Fraser Scott got engaged, the decision of where to get married was a simple one. "We looked at no other venue," explains Colleen. "We both knew it could only be Edinburgh Castle for its splendour and heritage. Being part of this history is truly a privilege."
Difficult to beat
When it comes to wedding venues, it is difficult to beat the iconic status of Edinburgh Castle – especially if you're looking for a truly historic venue. The 12th century fortress is the jewel in Edinburgh's crown and home to Edinburgh's oldest building – St Margaret's Chapel, which was built by David I around 1130. Home to kings and queens for centuries, Edinburgh Castle is a venue fit for royalty.
Set upon its mighty rock, the castle offers a location like no other. With an incredible backdrop, as well as amazing views across Edinburgh, it's an unforgettable setting for one of life's momentous occasions; guaranteed to provide the 'wow' factor for every single guest.
"What other venue can boast that?"
The grandeur of Edinburgh Castle is undeniable, as Colleen explains, "We will never forget our wedding at Edinburgh Castle. Every time we look up and see it standing solid and proud, we know that we are part of its fabric and feel honoured to share in its history. No directions on the invitations necessary, its reputation speaks for itself. What other venue can boast that?"
Colleen and Fraser shared their magical day with 50 of their closest family and friends, and enjoyed a variety of the venue's flexible and stunning spaces as part of their big day. The ceremony itself was held in the Queen Anne Building. This sumptuous setting at the heart of the Castle can hold up to 120 guests for a ceremony and up to 170 for a reception.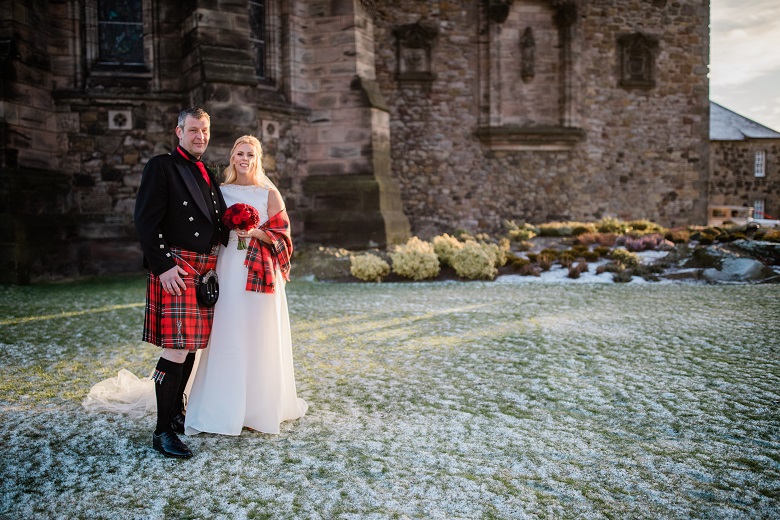 Surrounded by suits of armour!
Immediately after the ceremony, while the happy couple made the most of the spectacular location for photography, their guests were treated to a private viewing of Britain's oldest Crown jewels.
Dinner was served in spectacular style in the transformed Queen Anne Building where the evening reception then followed. Colleen adds, "Every room flowed well to accommodate our guests and we were fortunate to get into the Great Hall for our family pictures. It was so much fun being surrounded by the suits of armour!"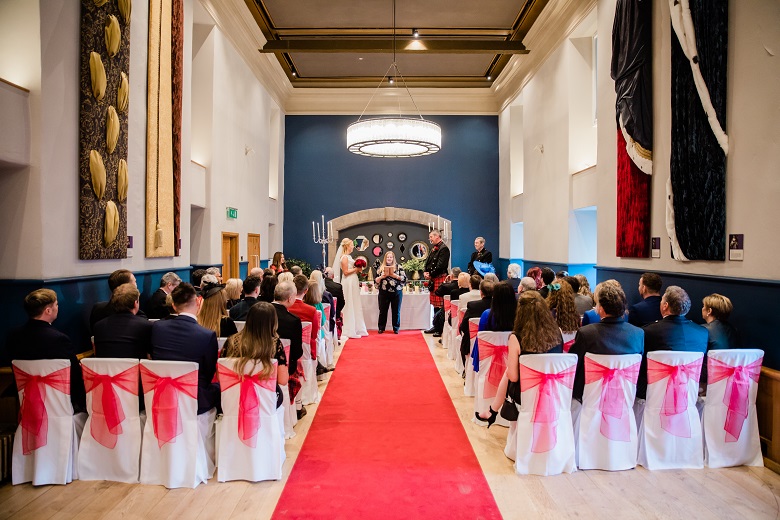 Feeling like royalty
One of the things that really gave the venue standout for Colleen and Fraser was the exceptional standard of the catering. "It was incredible," says Colleen. "The choices and the tasting blew us away. It was so individualised, nothing was out of the question, we made a few changes along the way and the chef helped with suggestions. The way the castle's serving staff marched in sync and served us all at once was so professional.
"We had one long table with the candelabras down the middle and it just felt so right with the traditional stone walls and tapestries. I really did feel like a princess! (Or is it queen now that I'm married?). For the evening meal we kept with our Scottish theme and asked for stovies. The chef loved this idea and made the best our guests said they ever had!"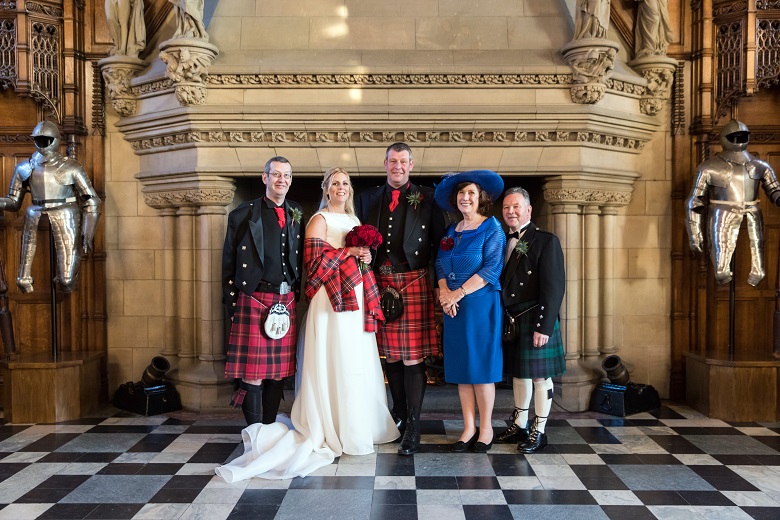 Exceptional service
Along with the unforgettable setting and the wedding day itself, Colleen and Fraser found the experience of the wedding planning with the team at the venue to be seamless. "We were impressed every step of the way – from introductions, viewings, expertise, catering and planning – the execution was flawless. Our wedding planner made us feel special and offered such a personal service. Jack and Lou were even on hand to calm my nerves when I arrived on a very busy sunny Friday to the delight of a lot of tourists!
"We knew that we would get exceptional service and a unique experience from a venue that caters for dignitaries from all over the world, but they still managed to exceed our expectations."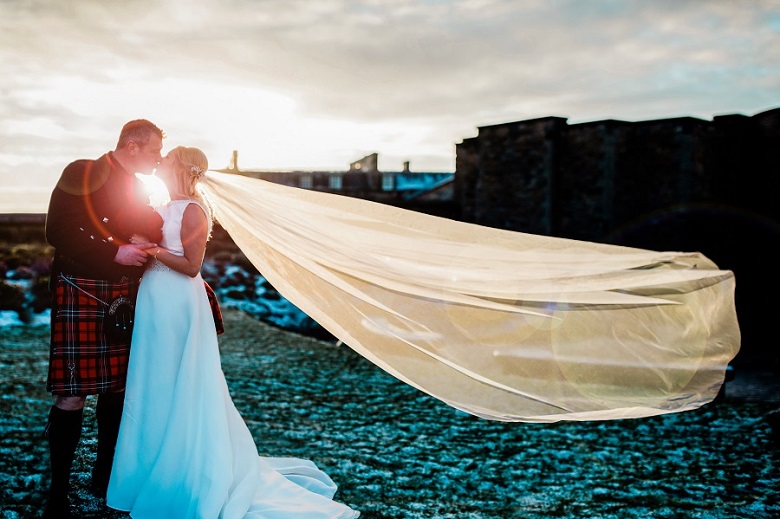 Setting sun
As the sun set on the Scott's beautiful wedding, the majestic venue continued to delight. Colleen explains,
Unfortunately, the day had to come to an end, but I cannot describe the breath-taking views on a crisp clear night that we were gifted, overlooking the whole of Edinburgh and beyond. Only a wedding at Edinburgh Castle can offer that!"
This blog was previously published on Luxury Scottish Wedding.