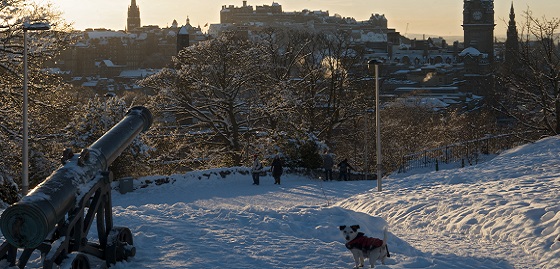 As it's Chinese New Year, specifically the Year of The Dog, we thought we would share a couple of 'bone-afide' stories from the castle's history.
The Dog Cemetery
Dogs are considered man's best friend and this little garden cemetery which sits within the castle is a testament to that love. Since the 1840s, it has served as a burial place for Officer's pet dogs and regimental mascots.
The first dog to be buried at the castle was Fido, beloved four-legged friend of the castle's commanding officer in 1847. Since then, many other faithful hounds and furry heroes have been laid to rest here.
One of these was Jess, band pet of the 42nd Royal Highlanders (the Black Watch), who died in 1881. Another was Dobbler, who for nine years (until his death in 1893) accompanied the Argyll and Sutherland Highlanders to such exotic locations as China, Sri Lanka and South Africa.
The dogs buried here went on many adventures. They travelled the world and faithfully served during parades, military campaigns, battles and medical rounds.
Greyfriars Bobby
Most people are familiar with the story of Greyfriars Bobby. But did you know a sergeant who worked at the castle made friends with this famous pooch?
The story goes that the sergeant would treat Bobby to meals in the local area around the time of the One o'Clock Gun. Apparently, Bobby became so accustomed to these meals he'd turn up for dinner at Greyfriars once the gun fired.
There's also a tale that the famous dog was once having his picture painted and, on hearing the One o'Clock Gun fire, he wouldn't settle down until he had something to eat.
This dog became so famous that a fountain was erected at George IV Bridge, just across from Greyfriars Kirk.  You can't drink from the fountain these days, but you can see Bobby perching there. Whatever you do though, don't touch his nose!
A Stylish New Year
In celebration of the New Year, we've gathered a special collection of dog themed gifts in our online shop. These are also available in our Portcullis Shop here at the castle. Be sure to stop by and check it out.
We hope everyone has a wonderful Chinese New Year!