Wee Whisky Puddings and Ice Cream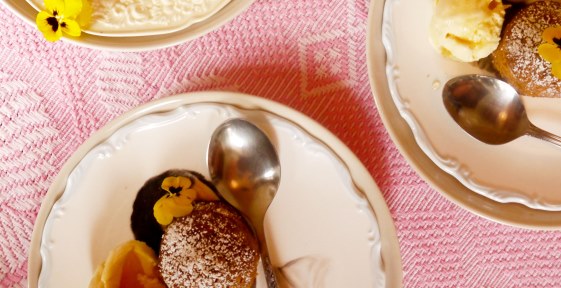 With only 5 days til Burns Night, there's still time to plan your delicious meal.
The main is the easy part, haggis, neeps and tatties but the dessert is your chance to try something new. That's why this recipe, from The Whisky Sauce Company, is perfect for the occasion. It's a combination of two sweet treats: warm date and whisky syrup puddings with whisky butterscotch ice cream.
Whisky Puddings and Ice Cream – Serves 12 – 16
Ingredients:
For the cakes
100g Butter
100g Soft brown sugar
100g Dates
50ml Double cream
100ml Whisky syrup
2 Eggs
1 tsp Baking powder
200g Plain flour
For the ice cream
300ml Ready-made custard
100ml Double cream
125ml Butterscotch sauce
Method:
1. Mix all the ice cream ingredients together, then either transfer to an ice cream maker and freeze, or place in the freezer and churn by hand at regular intervals to stop any crystals forming.
2. Cover the dates with boiling water for 10 minutes until softened, then drain.
3. Mix the sugar and butter together in a food processor, then add the softened dates, double cream and whisky syrup.
4. Transfer to a bowl and slowly stir in the eggs, then sieve in the flour and baking powder.
We used rubber moulds to bake in, but a greased muffin tin would work just as well.
5. Transfer the mix evenly and bake in the oven at 180C for 15 – 20 minutes, until golden brown.
Serve your puddings warm from the oven with a drizzle of whisky syrup, a dusting of icing sugar and a scoop (or two!) of your whisky and butterscotch ice cream.
Get into the spirit of celebrating Burns by joining us at the castle this weekend for a light introduction to The Bard at our Burns for Beginners event, Saturday 24 and Sunday 25 January between 11am and 3pm.
After learning the essentials on Scotland's most celebrated poet, Robert Burns, and eating a scrumptious meal, don't forget to raise a dram of our limited edition 1974 Dallas Dhu Whisky to the Bard.
Have a great Burns Night and don't forget to share your pictures with us @edinburghcastle